Haitian art is a vibrant and captivating expression of the country's rich cultural heritage. It is a fusion of African, European, and indigenous influences, resulting in a unique artistic style that has captivated audiences worldwide. Haitian artists employ a wide range of mediums, including painting, sculpture, metalwork, and voudou flags. Their works often depict scenes from everyday life, nature, and spiritual beliefs, with bold colors, intricate details, and a sense of rhythm and movement.
Haitian art is characterized by its use of bright colors, bold lines, and intricate patterns. Haitian art reflects the resilience and creativity of the Haitian people, serving as a powerful platform for storytelling, cultural preservation, and social commentary. It continues to inspire and engage art enthusiasts globally, showcasing the undeniable talent and spirit of Haiti.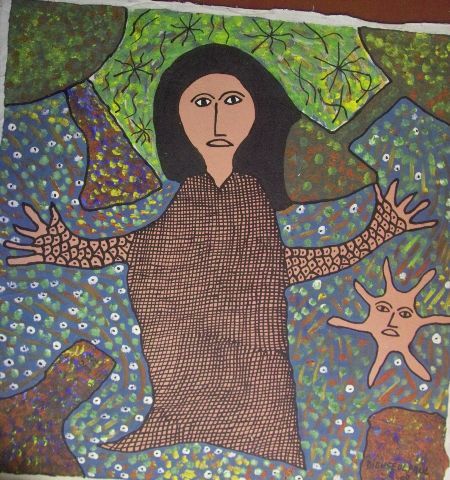 Saint Soleil School, also known as "Movement Saint-Soleil" was founded in 1973 as a rural arts community called Soisson-la-Montagne, in Pétion-Ville, Haiti. This community was started by Jean-Claude Garoute and Maud Robart and they encouraged the academic study of painting, as well as maintaining influence by vaudou. Saint Soleil art is characterized by abstract human forms and the heavy influence of vaudou symbolism (wikipedia).
After Saint Soleil School disbanded, five remaining members of the school were renamed "Cinq Soleil" and include: Levoy Exil, Prosper Pierre Louis, Louisiane Saint Fleurant, Dieuseul Paul, Denis Smith (wikipedia).
Haitian Artists
Magda Magloire was born on December 13th, 1957. She is the daughter of the painter Louisiane St. Fleurant, a founding member of the Saint Soeil school of painting. She is the sister of painters Ramphis Magloire and the late famous painter Stevenson Magloire. She began painting late, in the 1990's, with the encouragement of her mother, as well as Tiga and other members of the St. Soleil School.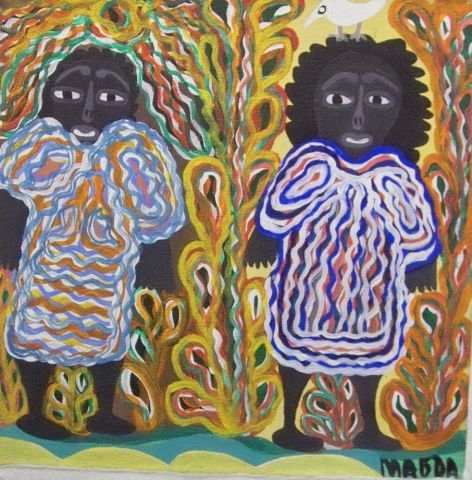 Prospere Pierre Louis was born in 1947 in Jacmel, Haiti. He belonged to the Saint Soleil School. In his art book, Peintres Haitiens, Gérald Alexis describes the artist as " an elder of the Saint-Soleil Movement, Pierre Louis was among the first to attempt this fascinating experience."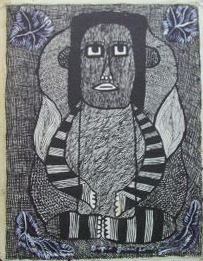 Levoy Exil was born in 1944 in Soisson-la-Montagne, Haiti. He is one of the main contributors to the Saint Soleil School art movement. His paintings are mystical and abstract and often depict Haitian Voudou Loas, suns and stars, birds, and "marassas"/twins. Levoy style is primitive/naive and dreamlike.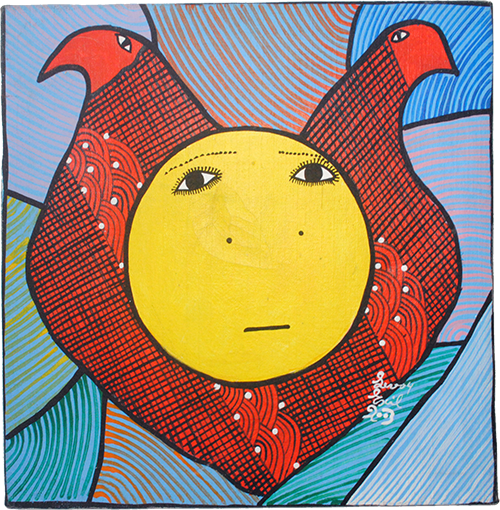 Maxan Jean Louis is a self-taught painter born in Jérémie, Haiti, on March 17, 1966. His known artist cousins, Henri and Eric Jean Louis, encouraged him to paint in 1992. He quickly developed his naive style inspired by the Voodoo culture and the political history of Haiti. Maxan sometimes adopts two distinct approaches: his lack of perspective human silhouettes, the repetition of ornamental motifs, and the colors recalling the Saint Soleil style.
Joël Gauthier started to paint in 1972. He paints various subjects such as jungle scenes populated by a wide variety of animals. His early pieces were signed " J. Gautier". His art is exhibited in the permanent collection of the Haitian Institute and the Organization of American States, both in Washington, D.C.
For more Haitian art, please see the page here (https://www.mangotangoart.com/haitian-intuitive-art/).