"I paint large pieces in a realistic style to give thanks and so people can escape and walk into these tangible visions, in their homes, offices, and meditative spaces."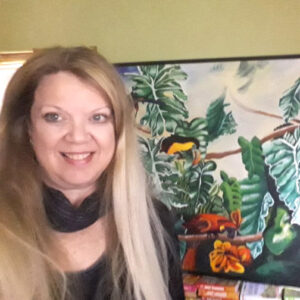 A showing of Gratitude, to our Creator. In the beginning we were taught to pray: "Our Father Who Art in Heaven". Those words resonate in my soul. I knew as a child, the importance of art in that prayer and while listening to my calling. I knew that art on earth would be an important way to give Thanks to God in order to lift peoples spirits to Him. I am just a vessel.
My birth father was a self-employed painting and decorating contractor. When I was four, his paint buckets gave me BIG IDEAS! I painted a red sunset using his paint that my mother hung in the living room. It was inspired by my father's favorite song: "Red River Valley". Thus you see the importance of music, a parallel platform to inspire and nurture us. I started painting large island scenes in high school, growing up in Iowa, before I had even seen a palm tree. I was in my second year studying art at U.N.I. that I came to visit my sister on St. Thomas in 1978.
I worked for Jim Tillett for five years as his apprentice. Matter, calligrapher, silk screen making assistant, and evolved to gallery manager. All the while, painting on the side and had my first one women show at Sapphire Seagrape restaurant. It was after that when I joined forces with Mitch Gibbs for twelve years. We were prolific and won awards both individually and for our collaborations. A few pieces in this show are pieces I did during that time, that were in my private collection and are now available to you.
Rae's work consists of large acrylics on canvas to smaller pastels and designer gouache (opaque watercolor). Extensive travel and study throughout Europe is expressed in her work. From Paris to Monet's Waterlily Garden in Giverney and through the Cote d'Azur to Venice. Rae has integrated some of our island's local scenes with a European Flair!
Her rich use of color and detailed photo realism technique has won her awards both on St. Thomas and in Pennsylvania. She has something for all art lovers in her diverse subject matter, size, and price.