The U.S. Virgin Islands and St. Thomas in particular, has history wrapped up with piracy. The first known record being of the Spaniards plundering the local Taino and Carib locals in the 1400s.
By the 1600s, when the Danes owned St Thomas, it became a refuge for many pirates (including privateers). There are many locations with pirate names but we can't be sure if it was in fact frequented by the actual pirate. What we do know is that yes, pirates did in fact sail around the Caribbean in the 18th century.
In Charlotte Amalie, you'll find Bluebeard's Castle hotel. According to legend, he selected this spot for a watchtower. High in the hills, you'll find Blackbeard's Castle, another 10 foot tower erected by the Danes as a watchtower. Over the hill and around the corner is Drake's Seat, an overlook where Francis Drake (a privateer) supposedly spied on ships coming from the British Virgin Islands.
Vintage Map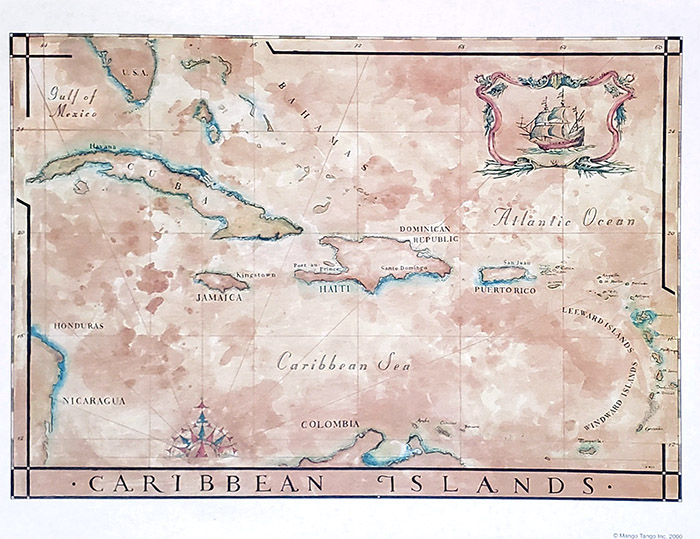 The most documented of the St. Thomian pirates would be Jean Hamlin, a French pirate who wreaked havoc with the British. Isidor Paiewonsky wrote a book, The Burning of a Pirate Ship, La Trompeuse on Hamlin and his exploits. Apparently, Hamlin knew the governor of St Thomas (Adolph Esmit) and sought refuge there. Eventually, his ship was found by the British but he escaped after several skirmishes and the burning of his ship. Esmit apparently hid him and he escaped the island to Brazil and disappeared from history.
Other pirates that purportedly sailed the U.S. Virgin Islands include Captain Kidd, Stede Bonnet, Tempest Rogers, Bartholomew Sharp, and Black Sam Bellamy. Blackbeard's Tower was once Skystborg (Protection Castle in Danish) but was renamed after Blackbeard. Bluebeard is actually a French fairy tale and legend and may have been based on a real person. In any case, the history of piracy is compelling and with the islands' locations, very probable. It sure adds excitement to any visit!