"The semi-abstract nature of Courtney's creations offers us a world of profound simplicity and beauty to view, balanced with a captivating tactile power."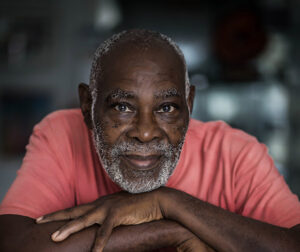 The creativity of master wood carver Courtney Devonish seems to find no limits. Each of his sculptures attest to mankind's connection to nature.
Born in Barbados, and educated in England and Italy in wood carving and ceramics, Courtney Devonish began Devonish Art Gallery in 1988, one of the longest running art galleries in the Caribbean. The gallery featured both his ceramics and wood sculpture until about five years ago, when he decided to totally concentrate on wood sculpture.
His current exhibition showcases stylized birds and fish, relief landscape and sunbursts, voluptuous human torsos, abstract forms, and his signature hearts, most of which fit in the palm of one's hand.
Renowned for his mahogany sculpture, Courtney debuts a visually sensual new light wood with delicate darker rings. The tree is found on his home island of Barbados and on his current island of Anguilla. The local name is Shak Shak, a distant cousin of the Royal Poinciana, with similar pods but differing in the color of the flowers which are white. The name implies the sound the seeds make within the pods.
Gallery owner Jane Coombes observes, that "the semi-abstract nature of his creations offers us a world of profound simplicity and beauty to view, balanced with a captivating tactile power."